GREAT DAYS OF SERVICE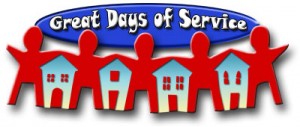 Great Days of Service is a cooperative effort to improve our town, develop community pride and build positive relationships within our community.  Churches, businesses, civic groups, youth groups, schools and individuals come together to complete service projects.
Great Days of Service Bonham - TBA:October 2018
On-line Registration is now open!
Please register by Oct 1, so that our leadership team can make plans. Register now!
Service Projects:
Community Clean-up " help pick up trash around downtown, parks and other public locations; clean up Bailey Inglish Cemetery and Willow Wild Cemetery too!
Home Improvements " yard work and home maintenance at the homes of elderly or disabled people
Food Drive " sort, organize and move canned goods to be donated to local groups who feed hungry people
Nursing Home Visits " sing, dance, play games and visit with residents of area nursing homes, assisted living facilities and group homes
Powder Creek Playground " apply sealer to the playground, add mulch and do other maintenance work at Powder Creek Playground
GDS Partners: Time is running out " if your church, business or other group wants to be an official partner in our Great Days of Service " click here to read more and let us know as soon as possible!